Syncro's RMM works in-sync with the PSA to make your job delightful. Here we'll show you how the RMM works.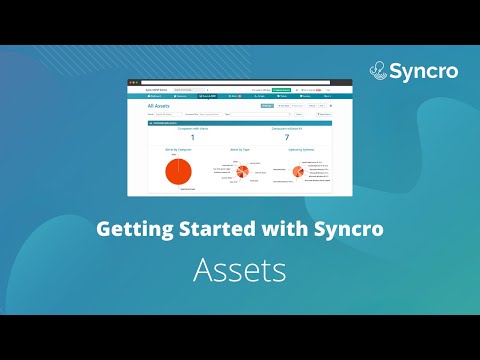 Core Functionality
*External article
We'll go through each section and show you how they work in Syncro.
Assets and RMM List
To view all of your RMM devices, go to the "Assets and RMM" page.
Here you'll see a list of all of your Assets. Syncro RMM Devices have their own type, and can be seen with a status indicator on the left-hand side. If you click the green circle, you'll see the following context menu where you can quickly access RMM functionality:
Syncro Device Detail Page
If you click on any of the Syncro Devices in the Asset and RMM List, you'll be taken to the Device Detail page. This page includes 4 tabs at the top:
Overview Tab
The Overview Tab shows you System Information, information about the Customer, Notes, Recent Activity, and more.
Monitoring Tab
The Monitoring Tab shows us the current status of Windows Updates, Monitoring Activity, and the current status of various triggers, such as:
Recent Blue Screens
Antivirus Installed
Hard Drive Fragmentation
Firewall Enabled
Recent Application Crashes
Free Hard Drive Space
Hard Drive SMART Failure
Device Manager Issues
Antivirus Tab
The Antivirus Tab shows you the status of Managed Antivirus. When Managed Antivirus is enabled, Syncro ensures that the Antivirus is always installed, running, and up-to-date. Syncro also schedules regular scans, and pulls any logs resulting from those. If malware is found, it can give you a notification.
Scripts Tab
With Syncro, you can easily run PowerShell and Batch Scripts, either immediately, or on a schedule. Once a script is done running, it will upload a log containing the output of the script.
Policies
Policies enable you to modify the settings for your Syncro RMM Devices, in bulk. To view your Policies, head over to the "Assets and RMM" page, and click the "Policies" link in the "View" dropdown.
Here you can view all of your existing Policies:
Creating a New Policy
If you click the "New Policy" button, you will be taken to a page where you can create a new Policy.
Custom Scripting
Scripting enables you to perform tasks on a machine on either a one-off or scheduled basis. You can design your own Batch or PowerShell scripts easily in Syncro by heading over to the "Assets + RMM" page and selecting "Scripts" from the "View" dropdown.
Syncro Pricing
You can view Syncro pricing at syncromsp.com/pricing. If you have any questions, feel free to get in touch at help@syncromsp.com.