Syncro has partnered with Splashtop to provide their excellent remote tool within Syncro as part of the subscription price. For those who want to bring their own Splashtop paid account, see this article.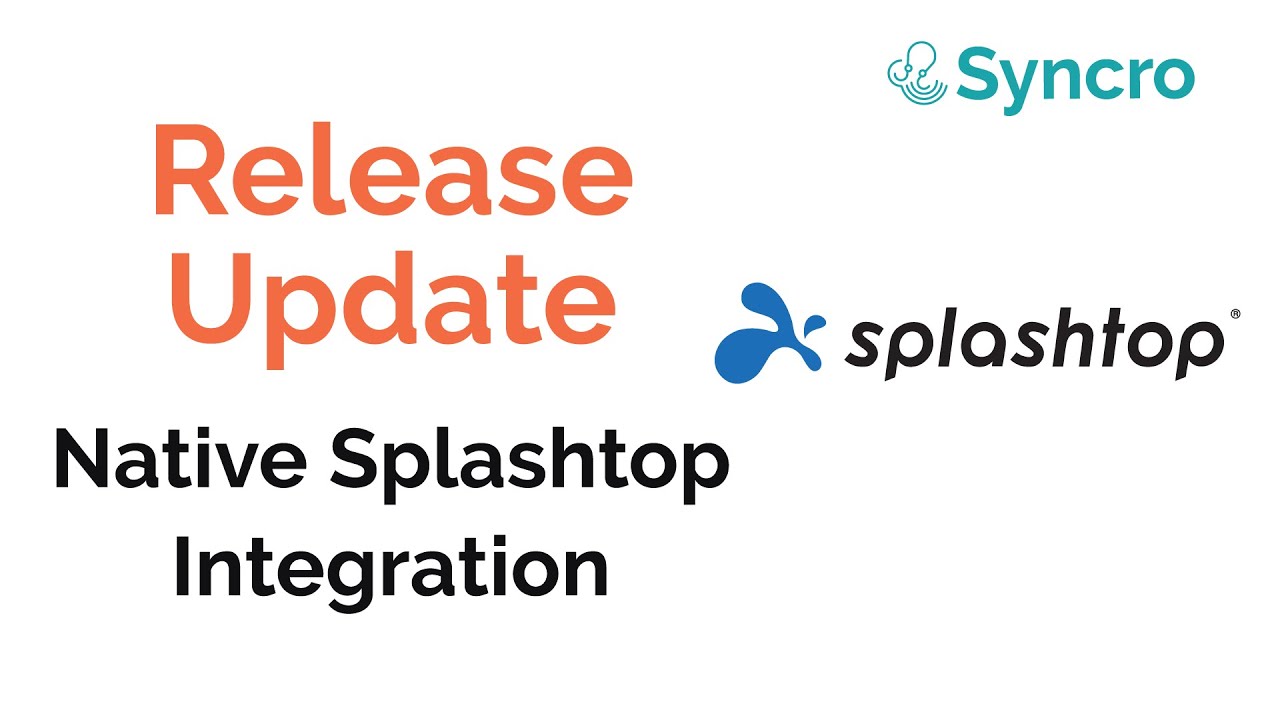 What it Does
Remotely Access devices exclusively from within Syncro
Additional security (requires the Syncro RMM Agent)
No Splashtop account or subscription required—access is included at no extra cost with your Syncro subscription
End-User Remote Access for $5 per contact per month (allow Contacts to remote into Assets from the Customer Portal)
Simultaneous connections to multiple machines from a single technician allowed
Multi-Monitor support requires you to click button in the UI to toggle between available monitors
 
What it Doesn't Do
Does not launch directly from Mobile App (Coming Later)
Does not support Splashtop SOS functionality
Does not allow remote access from Linux (use Syncro Backgrounding Tools instead)
Simultaneous connections to the same machine by multiple technicians is not allowed
Cannot simultaneously view multiple monitors (only BYO Splashtop supports that)
Table of Contents
Getting Started
Policy Settings
Security Permissions
Start Remote Session
Splashtop Remote Access Viewer Application
  Enable Splashtop access on a Mac
Install Splashtop Viewer
Using Splashtop
End-User Remote Access (Add-On $)
  Contacts viewing assets in Portal
Disable or Remove Splashtop
FAQ
Troubleshooting
Info on the BYO Splashtop Integration can be found here.
Getting Started
Splashtop will automatically deploy on Syncro Assets and requires no initial configuration to be installed on devices. There are some options at the Policy level that you should start with. Head to the Policies tab and click a Policy to edit it. Once on the Editing screen, in the left nav, click Remote Access.
Policy Settings
These settings will determine the default settings when you deploy the Syncro agent with Splashtop.
Enable And Deploy Splashtop For Assets On This Policy: Enables the Splashtop Remote Tool on devices in the Policy. Will deploy and install Splashtop on the devices in the policy when enabled. When you turn on this setting for Mac policies, you will need to enable certain security settings on the Mac assets themselves.
Require Client Permission For Remote Access: A Remote session requires the approval of the end client.
Technician Identifier: The name your client can see in the session. This is the name that appears in the new session notification on customer machines.
Note: Please allow for about 15 minutes for the software to deploy across devices on the policy and install.
Security Permissions
There are some specific Security Permissions that you need to consider to allow techs to be able to use the Remote Access tooling. Head to More > Admin > Security Groups, then edit a Security Group.
Assets - Allow Backgrounding Tools: With this turned on, techs can access the Syncro Backgrounding Tools.
Assets - Allow Remote Access: When this is turned on, techs can click the Remote Access button on the Asset to start a remote session.
Customers - Remote Access Enable: This allows techs the ability to turn on Remote Access for Customer/Contact records.
Starting a Remote Access Session
To start a Remote Session head to an Asset Detail page or use the Asset Quick Access and click the Remote Access button.
Asset Detail page:
Asset Quick Access:
Splashtop Remote Access Viewer Application
If the computer has not started a Splashtop Remote Session before, you will be prompted with a pop-up asking you to download a Splashtop Viewer application. You can choose between a Windows version and a Mac Version. This download only needs to happen once on the machine to allow Splashtop to function from the device.
Your browser will present a pop-up asking you for permission to launch the Splashtop viewer. You can optionally say that you trust the app so that it doesn't show again.
Enable Splashtop access on a Mac
In order to remote into a Mac, you will need to enable several permissions within the macOS. Note that these security settings cannot be configured remotely—you must change these settings locally before being able to establish a remote session.
In System Preferences, go to the Security & Privacy settings > Privacy.
In the lower left, if the lock is locked, click it to unlock it and enter your password.
You will click each of the below categories and then enable the Splashtop for RMM setting.


Accessibility
Full Disk Access
Screen Recording

If you do not see that Splashtop for RMM setting listed, you will need to manually add it.

Click the + below the list of apps.
Click the drive selector at the top and select Macintosh HD.

Click Applications > Splashtop for RMM.

Click Open.

Once finished, you may click the lock to lock it again if desired.
NOTE:
For MacOS Ventura, permission
General > Sharing > Screen Sharing
needs to be provided, otherwise users will receive an error stating that there is a missing permission. This is in addition to the steps above.
Using Splashtop
When you start a Remote Session, Splashtop will open in a separate window outside of your browser. (Note that the below two screenshots are from the Windows version. The Mac version is similar.)
The Splashtop Navigation bar gives you lots of functions.
  Disconnect session
  RDP switch session—shows if multiple RDP sessions are active on this computer
  Switch monitors
  View resolution scaling options, frame rate settings, remote cursor
  Full screen
  Send Ctrl+Alt+Delete
  Actions: Blank screen, lock keyboard and mouse, paste clipboard as keystrokes
  File transfer
  Chat window for Technician input
Splashtop Session start and session ends are logged in the Asset Recent Activity Log on the Asset Detail page.
End-User Remote Access
You can enable a setting at the Customer & Contact level to allow your end-user clients to access Assets through the Customer Portal.
Important Info: This is a Splashtop Add-On that costs an additional $5 per Contact per month. If the Contact is assigned to 5 assets, they would be able to remotely access all 5 in the customer portal for the same $5 fee.
Requirements
The following is required for this feature (no exceptions):
Portal User enabled in Customer/Contact Settings
Email Address used for the Portal User login
Multi-Factor Auth on the Portal User
More info on Portal Users here.
To activate this option for the top-level Customer, head to the Customer Detail page and click the Edit button. On the following page that loads there is a setting in the Customer Settings section called "Enable Remote Access."
When you check the box, a pop-up will show to confirm you want to purchase the add-on before saving.
At the Contact level to enable Contacts to use Splashtop Remote Access from the Customer Portal. Head to the Customer Detail page of your client, then click on the Contacts tab.
In the same section as the Customer Portal credentials, there is a setting called Enable Remote Access with a check box. Check that and hit Save.
This option is set per Contact and would allow that Contact to access any Asset that they are assigned to through the Customer Portal.
First, make sure the assets are assigned to the Contact you are enabling:
Then edit that Contact record to Enable Remote Access:
When you check the box, a pop-up will show to confirm you want to purchase the add-on before saving.
Required Portal Permissions
There are two types of Asset views in the Customer Portal. The ability to view Assets you are assigned or to view all Assets on the Customer Record.
If you want the Contact to only be able to Remote Access their assigned Asset(s) then choose 'Assets - View Mine'
Use with Caution: 'Assets - View All' will give that Portal User the ability to view All Assets attached to the Customer Record.
Contacts viewing assets in Portal
When your Contacts are on the Customer Portal and have the permission enabled, there will be a button with a monitor icon in the row of every Asset that they are assigned to. Clicking the button launches the Remote Session Flow.
The remote session for them will look and function exactly as it does for you.
Bill Clients for using Remote Access
You can also bill your clients for the Remote Access feature as well. To do this head to the Recurring Invoice Template for them and add a new line item type called "Remote Access- Contact Counter" to the template. This counter will dynamically count the number of Contacts on the Customer record that have the Remote Access option enabled in their Customer/Contact Settings.
More info on this line item can be found here.
Disable or Remove Splashtop
If you wish to disable Splashtop, you can turn this off per policy which will disable the remote access button by unchecking the 'Allow Technicians Remote Access To Assets On This Policy' checkbox.
Disabling Splashtop by unchecking that box does not uninstall it. If you need to remove Splashtop, we recommend running an uninstall Script in the Syncro Community Library.
Additionally, Splashtop provides a cleanup tool if the software was not fully uninstalled properly.
Frequently Asked Questions
Q: Does this Splashtop feature cost money?
A: No. The bare functions do not cost money. All technicians will have access to Splashtop. If you have 10 technicians, all 10 will have access. There is an Add-On that allows Contacts to use the Remote Session from the Customer Portal that is $5 per Contact per month.
Q: Do I have a limited number of Splashtop licenses?
A: This deploys to unlimited assets so long as they have the Syncro Agent installed. It's not limited in any way in terms of counting deployments.
Q: Do I need to always ask for permission to start a session?
A: This is a fully unattended solution (you don't need to "request access" to remotely access machines).
Q: Do I need to log in to Splashtop to use it?
A: There is no instance of Splashtop to log into per se. You'll need to trigger your remote access sessions directly from within the Syncro platform.
Q: What browsers are supported by Splashtop?
A: IE, Mozilla Firefox, Google Chrome, Microsoft Edge.
Q: Will Syncro remove Splashtop when I remove it from a Policy or Asset?
A: No. Because there are many versions of Splashtop including those where it can be installed by the end-user we will not uninstall Splashtop. You can mass uninstall Splashtop using script in the Syncro Community Library here.
Q: Can I use this if Splashtop is already installed on an Asset?
A: Most of the time, yes. It will run alongside most versions of Splashtop with other RMM-provided versions of Splashtop being the exception. If the Asset has another instance of Splashtop that was installed by another RMM using the RMM edition, there will be a conflict and neither instance will work until the other is uninstalled leaving only one.
Q: What security protocols are in place for Splashtop?
A: We simply facilitate the connection to Splashtop. Please see Splashtop's Remote Access Security article.
Q: How can I tell which customers have Splashtop access enabled and how much I am getting charged?
A: Go to Admin > Reports and in the Customers section, run the Splashtop End User Charges Report.
Troubleshooting
Allowlisting Instructions
If Splashtop is not installing after being applied to the policy and you are not seeing any errors, it is likely being blocked by an AV or Firewall. You may run the following tool to test for issues: www.splashtop.com/check
We suggest allowlisting the following where applicable.
SRManager.exe (Windows only)
SRFeature.exe (Windows only)
*.api.splashtop.com (* is wildcard)
*.relay.splashtop.com (* is wildcard)
https://my.splashtop.com/
https://splashtop.com/
Note: You may need to allow Amazon Web Servers, which is where these servers reside (amazonaws.com)
Additionally, port 443 needs to be open, including non-SSL traffic.
Logs can be found on the local asset under C:\ProgramData\Syncro. The Syncro Service Runner log should give further information about what is happening during the install.
Bad install?
If you are encountering install issues with Splashtop, we recommend running an uninstall Script (Windows only) in the Syncro Community Library.
Splashtop does not install on the local machine.
See Allowlisting Instructions above.
I am hearing the sound from the local machine, which is interfering with our call.
By default Splashtop will stream the sound from the local PC to you during a session, this can be disruptive if you are on a call over the net. Sound settings can be adjusted through the Splashtop Streamer which is located on the local PC.
The "Output sound on this computer" option will disable sound from the end user's machine during a session.
The local PC is experiencing hardware issues only when Splashtop is installed, or a black screen is appearing.
First, ensure that all drivers are up-to-date. If this does not resolve the issue, try using the Mirror Driver which can be installed from the Splashtop Streamer. With a mirror driver is installed, the Splashtop Streamer will use a different way to process the screen information.